Home / About & Contact / Supplies / Earn Certification / Videos / Photos

Sue Michaelsen Chi Kung & Tai Chi
True Source of Traditional Training
Chinese Martial Arts & Chinese Medicine
Combined Teaching System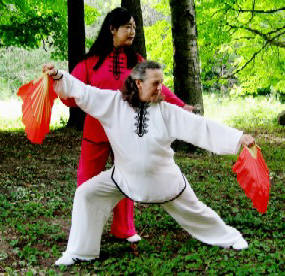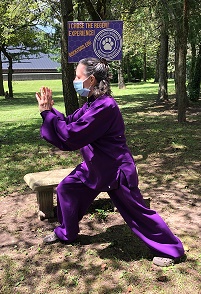 About & Contact Sue Michaelsen

815-229-5965 Email
Rockford, IL 61108 USA
Testimonials
"I am retired Army, with two combat tours and diagnosed with PTSD. As I continue
my training in Tai Chi and Chi Kung, my anxiety attacks, nightmares and flashbacks
have become few and and far between. I cannot put into words how much my teacher
has guided me through this emotional journey. Her joy, compassion and commitment to
Tai Chi and Chi Kung are second to none." Terry Scofield, US Veteran

"I attended Rockford University Tai Chi Class. I had lower back pain and felt relief
even after the first class. I love what I've learned and use it to strengthen my core,
increase my energy and stamina, as well as to reduce overall stress." Gale Wallace
"In spite of arthritis and being in my sixties,I leave Tai Chi Classes physically and
emotionally revitalized, feeling the best I've felt all week!" Peter R. Nagel
Sue has asked me to write you as a reference for her and I am delighted to do so.
I have been in higher education over 32 years and rarely have met someone as
passionate for her field and her students as Sue is for Tai Chi. Sue is a remarkable
teacher, strengthened by her continuous professional development gained by traveling
the USA, Canada and China to gain more and more knowledge and skills from the masters
of the field. Few educators continue that beyond their first several years in the teaching
profession. Another strength is Sue's compassion for her students and her intense desire
for them to learn and embrace the tenets of Tai Chi as a lifestyle. Her student evaluations
are high and encouraging to her and the college. I am pleased at Sue's development
as a college level instructor, given the record keeping that is involved.
We at Rockford College are so fortunate that she has taken time from her busy
schedule to teach in our general education program. The students who take her courses
gain much if they are willing to engage Sue and her subject. If I can be of further service
to you on Sue's behalf, please do not hesitate to contact me.
Bill Langston, Past Professor & Chairman, Department of Physical Education
Rockford College, Rockford,IL 61108 815-393-4009
SUE's Martial Arts Lineage
is a 4th Generation Certified Instructor in the "Wu Yi Jie He" family lineage
Chinese Martial Arts and Chinese Medicine Combined Teaching System
Sue's the 1st American to earn this Certification
from Grandmaster Helen Wu and Grandmaster Simon Hu.
www.helenwutaichistudio.com
Medical Qigong Teacher Certification from Shaojipo and Xi Yuan Hospitals
National Qigong Association Lifetime Professional Member
Earned Gold Medals in China, 2012
WI Institute for Chinese Medicine 1995
Stage and Screen Training

MICHAELSEN PRODUCTIONS
Improve Mind & Body Using Tai Chi, DVD, 2017
Seated Exercise for Mind & Body, DVD, 2016
Chi Kung Gentle Exercise
Standing, Seated & Hospital Bed practice, DVD 2002
Improve Mind & Body Using Tai Chi, DVD 2015
Qigong, Chinese Art of Energy Strengthening, VHS 2000
Additional Credentials
Nationally Board Certified for Therapeutic Massage & Bodywork
Illinois Licensed Massage Therapist
Chicago School of Massage Therapy
Coronary Health Improvement Program®

Employment
• Rockford University Physical Education Department: Chi Kung and Tai Chi 2006-present
• Rock Valley College: Community and Continuing Ed. Teacher: Chi Kung, Tai Chi,
Chinese Medicine, Acupressure, Massage Therapy, 1999-present
Michaelsen Training & Therapy Private Practice
Assisting all ages, seriously ill, athletes, stage and screen performers.
SwedishAmerican and Zion Development Research Walter D. Williams Wellness
Program that earned 2005 Governor's Award for Unique Achievement 2003-2020
Martial Arts
• 1st American to earn Teacher Certification from Master Helen Wu
Traditional Private Martial Arts Training Certificate In Health and Healing / Internal Martial Arts.
Teacher Training in Chi, Chi Kung, Fan, Sword, over 600 hours, 2001-present
including Rehabilitation, Strength Training, Sports Assistance and Chinese Medicine
• Earned two Gold Medals for Tai Chi Individual Performance
in the 11th World Grand Wushu Festival, Shanghai, China, 2012
• Sue Michaelsen is included in Rockford University and York University Tai Chi Text
• Stage & Screen Sword Training with Sword Master, Actor, Director, Anthony De Longis, '98, '01, '04
• Medical Qigong: Shijingshan District Red Cross Shaojipo Restorative Hospital, Beijing, China, 2001
• Medical Qigong: Xiyuan Hospital, Medical Qigong Dept., Beijing, China, Qigong with Prof. Dr. Lu
Guangjun, Director of Qigong Department (in Bill Moyers Healing and the Mind), 1999
• Qigong and Xin Shen Xhuang with Master Zheng Hong Chen of China, Chicago, IL, 1994
• Qigong with John Chen, MD, 1997-98 and with Maria Brzazgon, PT, 1994
Therapy
• Healthy Soles School of Reflexology, 2011
• SwedishAmerican Health System - Coronary Health Improvement Program®, 1999-2004
• Life Gate Center, Acupressure, Chinese Medicine and Qigong, 1995-2013
• Ethics of Touch and Professional Practice, 2008, 2010, 2012, 2014
• Chicago School of Massage Therapy (CSMT), Anatomy, Ethics, Physiology, Kinesiology, Pathology,
Trigger Point Release, Massage, Myofascial, Orthopedic and Acupressure Therapy, 1992–present
• WI Institute of Chinese Medicine, East/West Theory, TCM & herbs practical use, 1996-'97, '03, '04
• Releasing Torso and Improving Breathing, Chicago Sch. Massage Therapy, 2003
• Orthopedic Massage Therapy and Sports Injuries, 2001
• Wellness & Massage Training Institute, Tongue and Pulse Diagnosis, Woodridge, IL 2000
• 6th National Conference for AIDS Massage and Bodyworkers, Minneapolis, MN, 1995
• Massage for Neurologically Disabled with Harold Packman, RMT, Chicago, IL, 1996
• Rock Valley College, Rockford, IL: First Aid/CPR, 1995, Athletic Training/Sports Injuries, 1995,
• National School of Chiropractic, Gross Anatomy, Lombard, IL, 1994, 1995
• CONTAC Intervention Training, 1992
• Therapeutic Responses to Pain with Leon Chaitow, DO, MRO, ND, MRN, Chicago, IL, 1994
• Muscle Energy Techniques with Leon Chaitow, DO, MRO, ND, MRN, Chicago, IL, 1992
• Dale Carnegie Course, Rockford, IL, 1990
Memberships
• National Qigong Association Lifetime Member
• American Massage Therapy Association, 1994-present
• National Board for Certification for Therapeutic Massage & Bodywork, 1994-2001, 2008-present
References
• Schiek, Tammy, Chair, Associate Professor of Rockford University Physical Education,
tschiek@rockford.edu 815-394-5069
• Klint, Carol RN, M.S., Director of Zion Development/SwedishAmerican Wellness Program for Seniors
at Longwood Gardens Residence 815-871-2502, cklint422@aol.com
• Langston, Bill Langston, Past Rockford College Professor & Chairman,
Department of Physical Education, 815-393-4009
• Kim Patterson, Manager Community Education, Rock Valley College, 815-921-3901